Have you heard the latest gist? News reaching me is that there's a group of MILF pornstars on Snapchat who have decided that you and I will never have a moment's rest. To make this possible they are always bending over so we can all see what the entrance to heaven looks like and getting so nasty our heartbeats can be heard on the other side of the world! Of these MILF pornstars some are so excellently sexy they are regular features in our collective wet dreams! Here's a shortlist of these sexiest MILF pornstars that delight in making our cocks point to the sky and fire massive loads of buckshot:
Cherie Deville
A look at some of her Snapchat nudes is all you need to do to know why this MILF made this list! Cherie Deville looks stunning from every angle and is the kind of nasty lady that puts your cock on a war footing! She's averagely tall, has breasts that that are fuller than any fruit you might see in the produce section, and boasts the kind of sweet booty you would give up everything you hold dear to cuddle up to for a minute! Sweet Cherie is a massively sweet and accommodating MILF. Apart from posting loads of Snapchat nudes, she can be expected to get nasty with a girl, show off her daily life, sext with her fans, role play, and more.
Monique Alexander
Monique Alexander is a stunning, heavily tatted, and superbly pretty MILF who looks capable of putting more than a few Victoria's Secret models in their place! She's baked to perfection, with skin that glows, and is toned like a top-level athlete. Monique is amazingly busty, and rocks a tiny bubble butt that looks like it could have been crafted in heaven by a perfectionist! While this MILF doesn't talk all that much, she can do a lot to make you question why you haven't yet yanked your cock from your groin and beaten it half to death on the daily! Monique is into fetishes and likes taking it all off and inviting you to do your worst.
Ariella Ferrera
I won't lie, this MILF looks good enough for a whole frat party to dine on! Ariella Ferrera is a rather tall and graceful MILF with riveting eyes and a body that's made to be tied up and fucked hard and furious! There's little meat on her, with everything in sight being toned to the limit. Sure she doesn't have a big booty, but what's there is the perfect size to fit whole in your mouth! On her Snap, this Latina slut gets intimate enough with her fans for them to consider using their third leg as a crutch! She puts on shows to remember and posts Snapchat nudes that make your cock feel very much like a VIP!
Brandi Love
Brandi Love is a blonde MILF whose performances on Snap goes down as well as if not better than a shot of ambrosia from the table of Zeus himself! Brandi is almost a sex freak, which is good news for horny guys everywhere! She posts nudes and thirst traps on her Snap and occasionally engages in group sex, outdoor sex, and creampies. About the only thing she won't do is anal and I would lay down my life to see her bubble butt spread and speared by a BBC in search of a new home that's not as shitty as the last one!
Kendra Lust
Kendra Lust has the perfect name that fits her to perfection! Even a cardinal would get horny on seeing all the load this MILF is carrying and no one can blame the guy! Kendra measures 5'3" but looks as big as a charging rhino that madly wants to give you another opening you don't need! Her booty is big enough to weigh down the world and she has the kind of knockers that would make any boob guy so happy he could expire forthwith! Want to know everything about this beautiful MILF? Then go to her Snap. There she posts everything she cares to, from snapshots of her daily life to her nude body. You will surely see enough things to make your woody beg for a vacation!
Diamond Jackson
I am solemnly here to advise you all that getting a diamond like Diamond Jackson in your bed should be your only purpose in life! Diamond is a chocolatey babe who's as toned as she's naughty. She's the kind of girl that makes you buy out everything in the lube store and has enough tricks in her bag to make you regret not having a chick like her in the next room who can suck out your junk like it is the most important task in the world! Go to her Snap now for her Snapchat nudes and all the hot action your system can handle without collapse!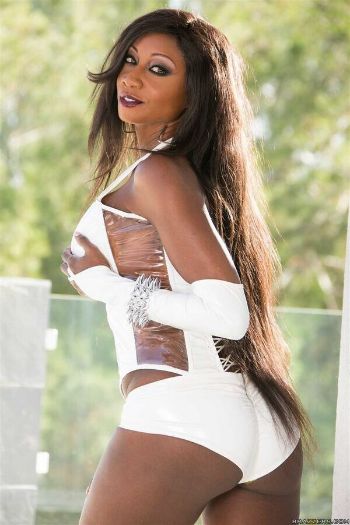 Alexis Fawx
No matter how hard you try, it is just impossible not to like this chick! Alexis Fawx is so friendly you just know she will come over and sit on your face if you ask politely and is one of the naughtiest pornstars on Snapchat to be found. She has the body of a spoiled princess, with this consisting of a glorious bubble butt and jugs you just want to carry around for her and suck on when life gets hard! This sweet chick is very active on Snap and following her account is a sure way to get a trainload of spicy cum out of your system!